About Adoption SF

There are hundreds of children and youth in the foster care system in San Francisco County who need a family just like yours.
Without an adoption, many will remain in the foster care system and may never have the chance to form a permanent bond with a family. You can change a life by adopting a child and Adoption SF can help you make that connection with a wonderful child or sibling group who is waiting for your love.
We welcome all kinds of families and are proud to work with LGBT, straight, and single men and women who want to adopt. All you need is a big heart and to be able to provide for your family materially and emotionally. Join us for an Adoption SF orientation meeting.


Adoption SF is a unique collaboration between The County of San Francisco Human Services Agency and Family Builders.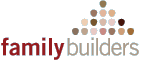 Family Builders is a private, not-for-profit adoption agency in Oakland, California. We combine our strengths and expertise, with each organization doing what it does best, to recruit, certify, and prepare families to make a difference that matters in the life of a waiting child or youth. Click HERE to visit the Family Builder's Spanish website.